I am lucky enough to know Ana, daughter and granddaughter of these ladies. She told them about my project and, a couple of weeks later, there I was with a camera and a hungry stomach.

I was gleefully received at Cristina's house. She is a retired Portuguese and French teacher while her mother, Maria Emília, was a painter and ceramist. They both take cooking very proudly and were excited to show their tricks.

Maria Emília, the matriarch, is 85 years old. She presented me with her recipe for Pataniscas, salted codfish patties. Her recipe is quite uncommon - she adds white wine into the batter instead of the usual sparkling water. She had her own mise en place ready for when I arrived, and, while guiding me through each of the steps of the recipe, she warned me about the importance of having everything ready. I acknowledged it is still a hard lesson for me to learn.

She was generous enough to share her decades old recipe with me, and now I share it with you:
Pataniscas de Bacalhau
150g flour
2 tbsp of extra virgin olive oil

2 eggs

500g of soaked, cooked and shredded salted codfish

1 glass of white wine

1 finely chopped onion

2 to 3 tbsp of chopped parsley

salt and pepper to taste

"Stir and fry" are the only directions she wrote in the recipe, but I will help you. In a big bowl, you will mix the flour with some of the water of the cod, one tbsp at a time. You want it thick because you will later add the wine. You have got to mix it nicely with a wooden spoon, no lumps allowed! Now, add the wine and mix. Then goes the onions and parsley, followed by the olive oil. Finally, in goes the cod. Think of pancake batter, that's the consistency you want to achieve. If necessary, add more water!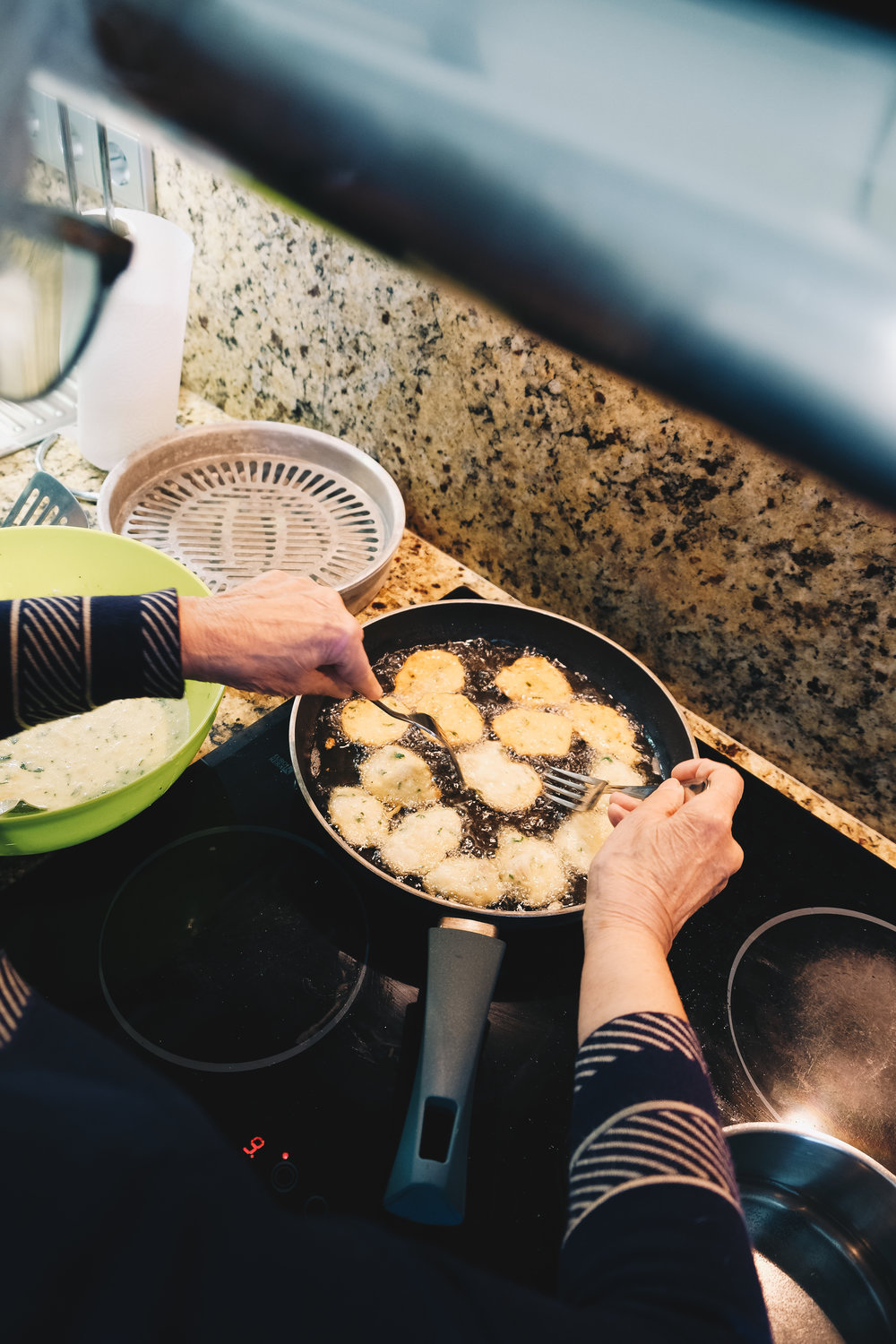 Now, in a frying pan, put some vegetable oil and let it become hot. Test with a tiny bit of the batter and check if it sizzles, if so, you will spoon the patanisca batter: one tablespoon of the batter, not too big and not too full, will be one patanisca. This recipe makes approximately 60! Two minutes on each side, I guess. Just flip once they are nice and golden. Please, be careful not to burn your tongue when you eat them!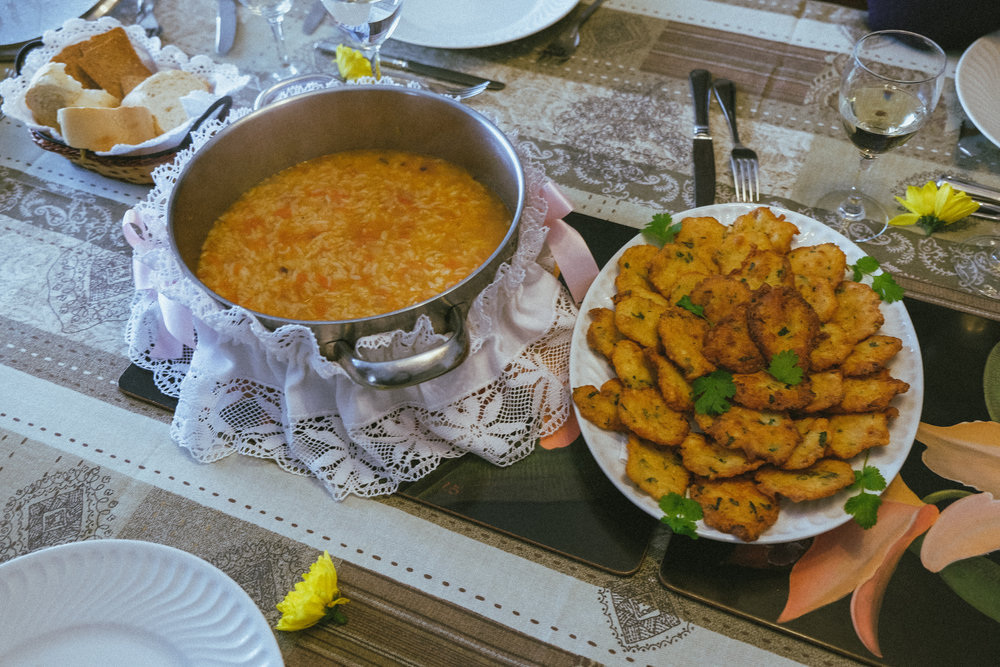 Cristina, Maria Emília's charming daughter of 64 years old, prepared tomato rice for everyone. A regular "estrugido" made with onion and garlic and olive oil, followed by six to eight tomatoes (the good ones! She froze bull's heart tomatoes from late summer) and some red pepper, and which are left to simmer for 10 to 15 minutes over low heat. Do not use a blender here, it will grind the tomato seeds, and the rice will loose its vibrant color. When you are ready to eat, add the rice plus 4x its volume in water, along with salt and pepper. Taste and let it simmer, covered, until its cooked (roughly ten minutes). Tomato rice is a classical pairing to pataniscas, and, just from writing this, my stomach is now eager to have it again! It was amazingly good.

Cristina takes great pleasure in making things pretty, every time: she dressed the pans with these colorful skirts made by Maria Emília (they keep a drawer stashed with these), and there is a flower in each seat, as well as a meticulously decorated plate of pataniscas. I was so impressed by it, I actually had never seen "pan skirts" before, but they sure look lovely.
Over lunch, Maria Emília and her husband tell me how they met each other through ads on a newspaper during war time. When they finally decided to meet, António cut a hole in the newspaper and hid himself behind it while waiting for Maria Emília in the train station. Luckily, she was very good looking. And so, they married and had three kids. We had a puff pastry pie with eggs, cream, and coconut filling. It was melting in the middle, just as Maria Emília loves it. Cristina shared her recipe as well, and here follows:
Tarte de Côco da São
1 puff pastry tart base
100g of coconut shreds
350g sugar + 1.5dl water (4 min boiling on the stove, until "ponto pérola")
3 eggs plus 2 yolks

Make the "ponto pérola", let it rest for a few minutes. Meanwhile, cover a pie pan with the puff pastry. Add the eggs and yolks, which were previously mixed. Add the coconut to the mixture and pour into the pie crust. Cook for about 20 minutes in a 180ºC oven. It should have a crusty outside and be very moist inside.
I have been on the look for families now because this dynamic seems to be forgotten among the current ways food is glorified. There is something about sharing a pan of rice between the family that is somewhat lost when I meet a singular person. I grew up in a family where food did not play such an important role in gatherings, and I wanted to see what a kitchen that is shared by three generations looks like. I also came to notice the effects of my visit in these homes: people plan the food, they try the recipe during the week, family members taste it and give feedback, they finally decide on what to cook during the weekend and, on the day I come over, people take care of their looks. I become not only an observant but also a purpose.