Marta is a natural at hosting. She welcomed me in her home, where she lives with her husband and pets. Her apartment is big and full of light, and you can't help feeling instantly captivated by the surroundings. She guided me towards the kitchen where she offered me freshly brewed tea. She excused herself because of the mess (I think we all say this even though everything was clean and in place).

Today, she wanted to bake her yearly batch of cinnamon buns, which are a favourite of her. She had left the dough leavening over night and was now ready to assemble them with lots of butter, sugar and cinnamon. And, yes, the smell was intoxicating!

Her kitchen is tidy, plentiful and warm. You can see a number of red items displayed on the counters - appliances, kitchen tools, flasks, and so on - the same shade of her red lipstick. After greeting me enthusiastically, the dog fell asleep in the room next door, snoring instantly. The cat was sleeping in the couch. Even though she lives right at the heart of Lisbon, time seems to slow down around her. She is soft spoken, her manners delicate and thoughtful. We talked about our backgrounds, and she explained to me she had studied psychology in college, but when facing the opportunity to start a PhD in Norway, she decided to change the course of her life. A couple of years later, she began working at a friend's Indoor Cimbing Gym, baking and taking care of the bar. She doesn't miss the goal-oriented, stress-fuelled environment of Academia and Business, preferring this simpler, kinder way of a living.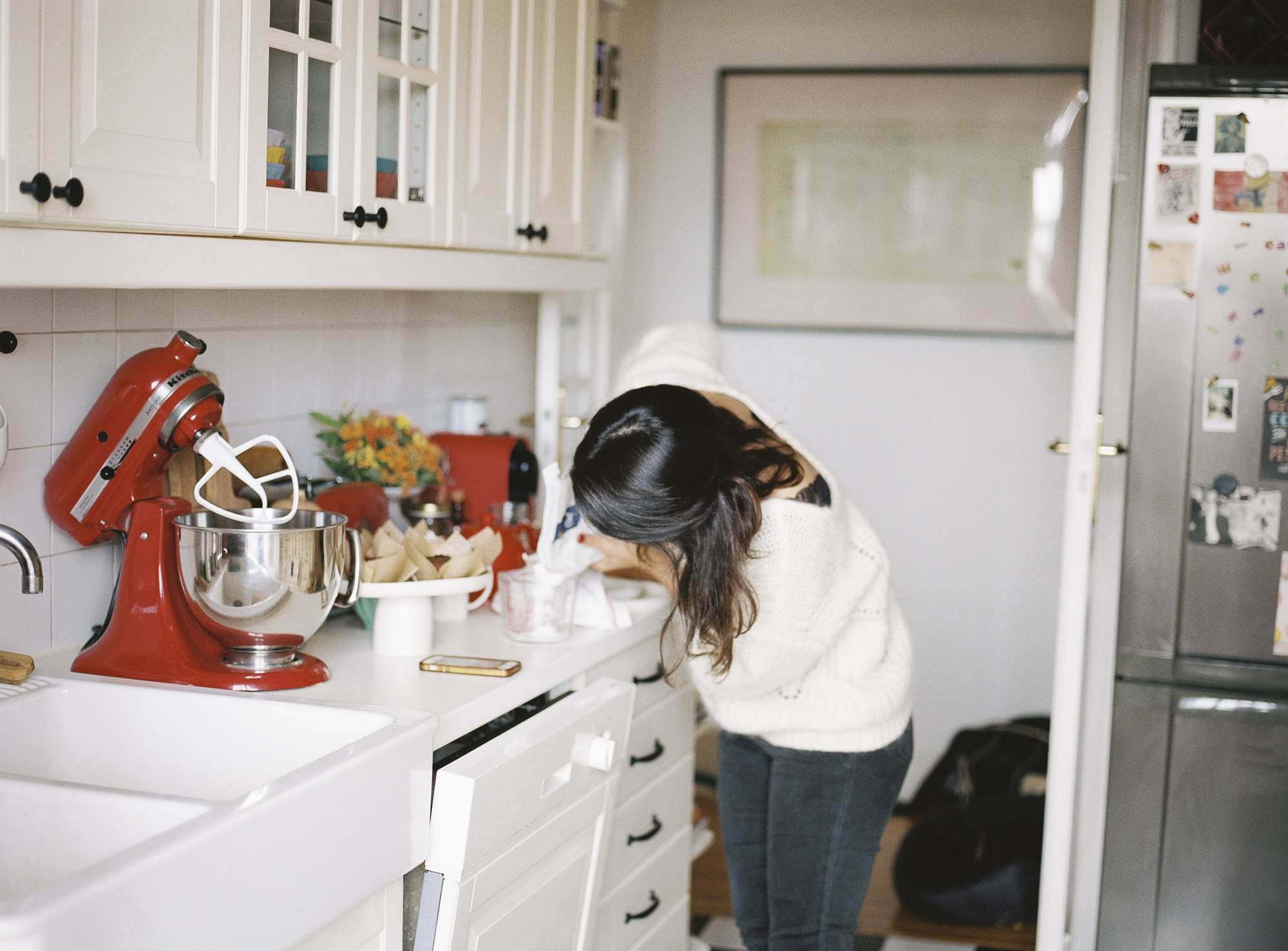 With her cakes being a tremendous success among costumers, she began taking orders and that's how
Conrad's Bakery
came to life. She told me about how much she avoided buttercream and fondant in her baking, preferring the fresh, tart taste of mascarpone and cream cheese. Her cakes are instantly recognisable as a labour of love and time, you couldn't possibly imagine them being made in industrial kitchens and ovens. I admire her consistency and elegance, overall.
We then shared our personal experiences around baking: how soothing it can be during hard times, how it brings people together, and how much gratification we get from it. We are both non-smoking introverts who prefer to be at home rather than going out, so meeting friends was, at times, a struggle. It's funny how both of us realised that our cooking and baking skills could actually be the reason to have our friends over and spend time with them in a pleasant environment. I know this might sound selfish, but I prefer to call it wisdom!
Once the buns were out of the oven, it was time to feast! The menu was plum cake, cinnamon buns, and some pumpkin and chocolate muffins she was trying out for the first time. We had some wintery tea and sat for a bit in the living room, enjoying the warm light of early Autumn in Lisbon.