Sometimes, people arrive to a city and change paradigms.

In 2013, when Portugal was still suffering the socio-economic impacts of the 2008 worldwide crisis, Miguel, Sako, and their kid Soma left gloomy London for sunny southern Portugal, as Sako was appointed as a teacher in a private school in Algarve. When the school term was about to begin, a drastic change of plans left Sako without a job contract. They roamed north and settled in Porto, near Miguel's parents.

Inspired by their experiences in London, Sako & Miguel began hosting supper clubs at their place. At the time, this was something uncommon in Porto, as locals tend to be weirdly private about eating with strangers, despite loving food. The duo works wonderfully together, as both hosts and cooks. During our lunch, more than once, Miguel emphasized how much he loves to talk. You can't ignore that about him, his words flowing, as he guides you through his interests and obsessions. On the other hand, Sako is highly focused when she's cooking, peeling fruits for dessert or quietly picking raisins for what would later be nutty brown rice cooked with coconut oil.
In their kitchen, it felt as if we were watching a live TV show, looking at Sako & Miguel coordinating their moves and gestures in their small kitchen. They keep a freshness to their relationship, especially in the kitchen, where the couple has distinct styles of cooking. Miguel, much like myself, has a knack for leaving objects lying around mindlessly as he tends to pots and pans, to which Sako still reacts with annoyance. Knowing that Miguel has probably done this more than a thousand of times in their decades long relationshp, it feels endearing to watch them still fuss about it.
Looking at preserves laying around in jars and buckets in the kitchen, you can't fail to notice that cooking is a much-appreciated activity in this household, taken into their daily lives as both a provider as a creative resort. Sako, beaming with pride, talked about their 12 years old son's omelets, their favorite.

As the fish was going into the oven, Miguel drained boiled potatoes and put them back in the pan where they had been cooking, generously seasoning them with salt and olive oil, and dumping them in the roasting tin. The surface of the pan, now glimmering of potato, oil, and salty specks, was brush cleaned with slices of sourdough, which were later given to us as an appetizer (as I write this, I feel the urge to boil potatoes just for the sake of having bread moistened with potato and olive oil). Dishes like these, in which ordinary ingredients are given the space to shine on their own, seem to come around often when in the company of Sako & Miguel.
Food, objects, and the space we inhabit are silent descriptors of who we are. The places Miguel & Sako choose to occupy, as their home and their restaurant, are living shrines of their memories, their travels, and the relationships they created with those who visit their spaces. In their home, in one of the shelves covering the walls, a photograph of the two of them working at Namban Oporto Kitchen, taken by a client, now turned friend. A symbol of appreciation and recognition, something so desirable as you pave your way through life, doing what you love.
The physical limitations of a finite apartment combined with endless curiosity, forced their collecting (something they share in their 20 plus years-long relationship) to be refrained to fit necessity (something utterly contradictory of the act of collect itself). Sako opted for collecting mostly kitchen and tableware "as long as I keep using them". And so, as we sat at the table to feast on a roasted sea bass, the single arrangement of tableware became special, knowing that every single knife, fork and plate had personal significance.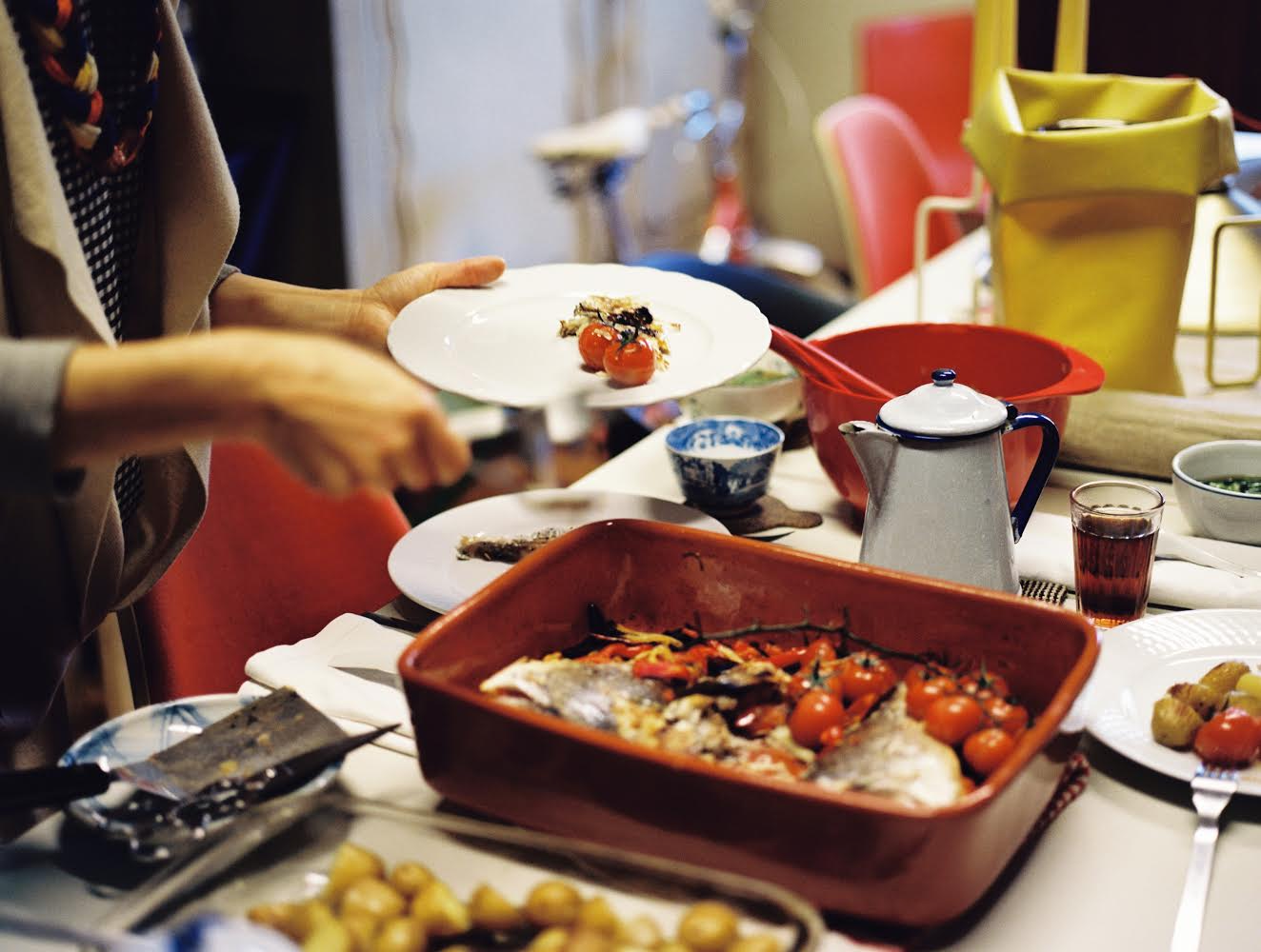 What was initial intended to be a lunch, turned out to be a day long activity, as we saw ourselves talking well into the evening. Conversations seem to be endless, with opinions, tales and interests being shared at the table, intertwined with tea and pastries. I kept on munching Glórias (see last picture for Sako's plating skills), and picking fresh cut fruit soaked in Porto from the dessert bowl (should practice my table etiquette soon). As the sun was setting, hungry as it was already time for dinner, Miguel offered to prepare us pasta with chanterelle mushrooms (that a friend had offered them) and tomato sauce. While Miguel was busy in the kitchen, Sako relaxed into one of the many, many chairs that Miguel has over the apartment, and invited us to do the same. It felt like a game, choosing which chair to sit on, according to the situation or conversation we were having, kind of like dressing for the occasion. I think I took hours to apprehend the sheer amount of details and objects that filled each room in the house, feeling like a crow being drawn to every shiny object. And so we began asking
what is this and that
.
In a time when the proliferation of look-a-like cafes and restaurants, which cater to the individual who expects to see and experience the same environment in every place they visit, Namban Oporto Kitchen feels like an outsider, lavishing in its own individuality. A testament to Sako & Miguel's hard work during the seven years they've spent in Porto, where they taught so many costumers about time and care as key elements to make food taste other-worldly. They wanted every single person that sat at their restaurant to feel the love they've put into their food and their craft. They created something out of nothing: from supper clubs, to selling at markets, to a kiosk and, finally, to a restaurant. They have nourished it for seven whole years, creating tight bonds with everyone that crossed their path. And now, it's time to say our farewells as this family of four is now taking their Namban Oporto Kitchen with them to Helsinki, Finland.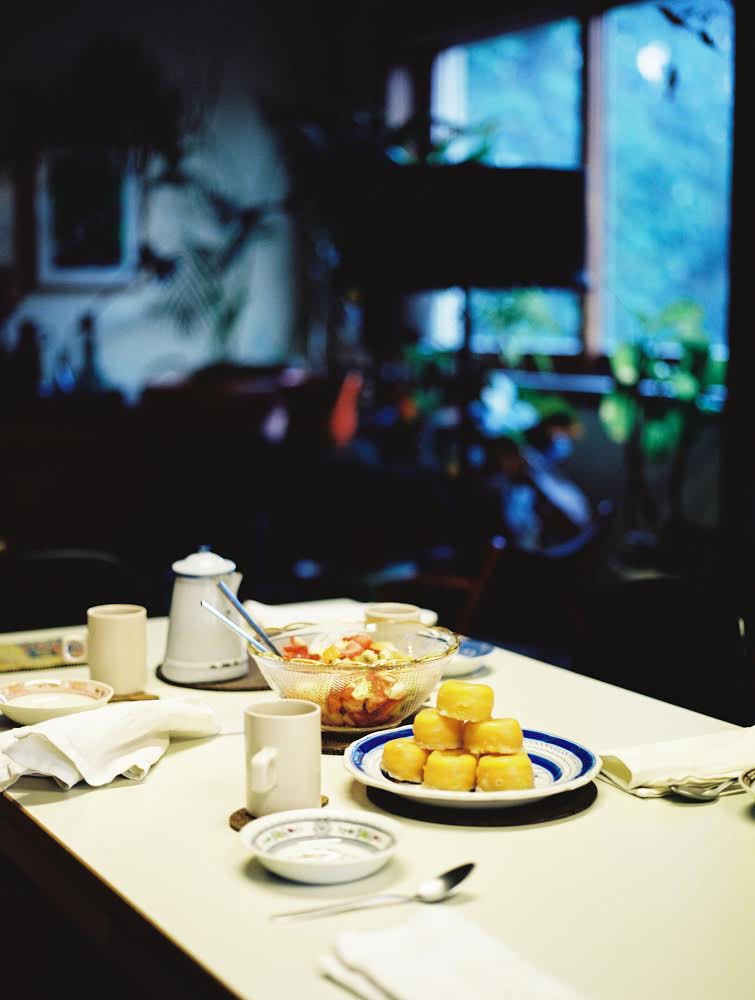 You can follow Miguel & Sako, and their beautiful Namban Oporto Kitchen, on their
instagram page
.